WINNER'S CIRCLE

This could be you
Could be you

Winner

Winner

Winner

Winner

Winner

Winner

Winner

Winner

Winner

Winner

Winner

Winner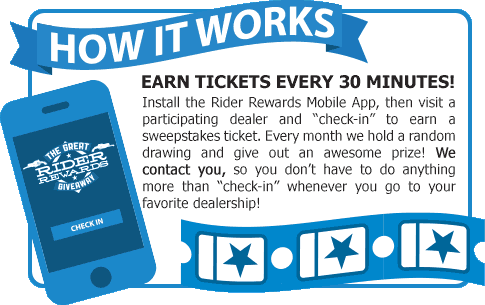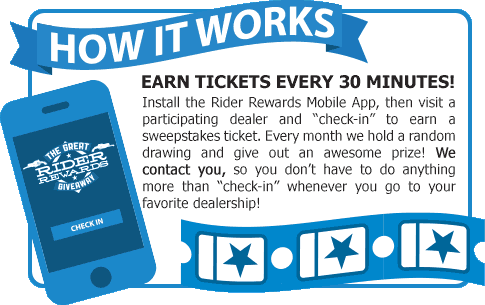 FREQUENTLY ASKED QUESTIONS
HOW DOES THIS SWEEPSTAKES WORK?
Using our free mobile app, you earn sweepstakes entries simply by "checking in" to Rider Rewards dealers. Winners are drawn randomly every month.
HOW DO I LOCATE RIDER REWARDS DEALERS?
Look for the Rider Rewards Giveaway logo at a dealer's checkout counter, or download our free mobile app to try checking in!
CAN I EARN MULTIPLE FREE SWEEPSTAKES TICKETS?
Yes, you can check-in every half-hour. This technically allows you to earn up to 48 sweepstakes entries every day without having to purchase anything!
HOW MUCH MONEY COULD I WIN?
Amazon gift cards valued up to $500 are awarded to our Rider Rewards sweepstakes winners every month!
DO I NEED AN AMAZON ACCOUNT TO WIN?
No, but you will need an
Amazon
account to claim your gift card—sign-up is free! If you're a lucky winner, a gift card code will be sent to your email address.
WHEN ARE WINNERS ANNOUNCED?
Winners are announced every month, and they are notified via email. Winners are also posted in the "Winner's Circle" section of this website.